ALL over the meadow,
Where the yellow roses bloom,
Multitudes of violets have opened
With this spring rain.
by Princess Takata
Found in the 1000 Poems from the Manyoshu: The Complete Nippon Gakujutsu Shinkokai Translation. Dover Publications.
---
Spring is here. SPRING IS HERE?
I can't believe it's March. I also can't believe it's been six months since Shinigami was published. I feel like I went to sleep on New Year's Eve and woke up on 1st of March. The thing with 1st of March is that it brings one of my favorite holidays of the year.
I don't know how many of you know that I live in Romania. Romania is a country that continues to follow some of its old pagan traditions, and Spring is the time for Mărțișor.
Mărțișor (or Little March) refers to a talisman made from red and white string with hanging tassels, that men offer to women on 1st of Mach. I like to gift the talisman to everyone, no matter the gender. It is believed that the wearer will be strong and healthy for the year to come, and we wear it pinned to our clothes, close to the heart, or around our wrists until the last day of March, when we tie it to the twig of a fruit-tree.
Here's the Mărțișor I received from my partner this morning: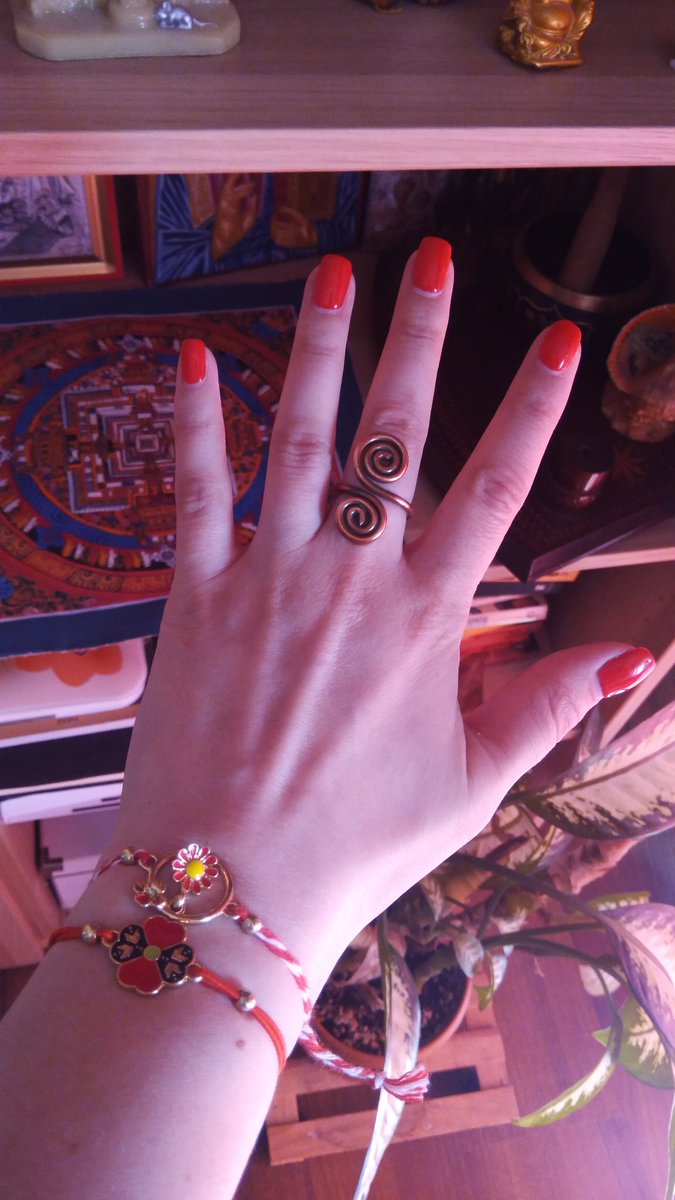 Cute, right?
However I am not writing this blog to bore you with my Mărțișor mania. I actually have some news.
---
Shinigami 2 – is WIP
I know that Shinigami finished on a cliffy of sorts, and that you are curious about the date when Shinigami 2 (not the actual title of the book) will drop. The answer is: I have no idea, but I'm working on it. And for whatever little progress I make, I would like to update you via a newsletter.
Initially I pondered if I should create a Patreon account, but I don't think I have enough time to manage it. Then, my friend, Moony, came with an awesome idea: Why not set-up a newsletter and send the updates via the newsletter when you have them?
So here you go. If you would like to get monthly updates on the writing progress, together with draft snippets from Shinigami 2 and other things related to Takamagahara Monogatari, subscribe to my newsletter.
Processing…
Success! You're on the list.
Whoops! There was an error and we couldn't process your subscription. Please reload the page and try again.
First 10 subscribers to the newsletter will receive a Mărțișor from me via post as a gift. I will contact you via email to ask for the address where I can send the talisman. And of course you can always say: No, woman, are you crazy? I'm not sharing my address with you. I just wanted the newsletter.
---
Kurohana will have his own novella
Kurohana will have a novella about his life called The Moonlight Flower.
I'm still thinking about the publishing sequence, because I don't know yet if I should publish it before Shinigami 2 or after. There are some mild spoilers in the novella that might affect S2. When I have the final draft, I will let you know. Or maybe ask for your vote in a poll.
I'm also excited to tell you that I have commissioned an amazing illustrator to create the cover for The Moonlight Flower. And it's going to be HOT! More on this later.
---
A promise made – Shinigami inspiration
There is a certain passage in Shinigami near the end, in the chapter 39 called "Yūrei" filled with a lot of drama. If you are interested about the inspiration for that moment, you can read the Japanese folklore story "Of a Promise Kept" gathered by Hearn, Lafcadio, 1850-1904 here:
https://archive.org/details/japanesemisc00hearrich/page/5/mode/2up
---
And last but not least…